Our Nashua Wedding Venue
My Nashua Wedding, by Nashua Country Club is the perfect back drop for an unforgettable wedding celebration! Our stunning 40,000 square foot clubhouse, offers commanding views of the Nashua Country Club golf course-a classic New England landscape. This wonderful setting assures that every moment of your wedding experience, from your arrival; greeted by your own personal butler to an elegant dining service in our Grand Ballroom will exceed yours and your guests expectations of the perfect wedding day.
Nashua Country Club provides you and your guests with unparalleled service and thoughtful planning. In the months prior to your event and throughout every moment of your special day, NCC assures that your celebration will be an expression of your personal style and tastes. See our exciting new catering packages!
Your Personal Wedding Coordinator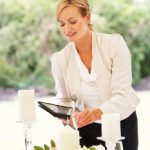 Your personal wedding coordinator leads a dedicated team of service professionals that will cater to your every need – assuring that every aspect of your wedding day meets your high standards of excellence.
Our experience planning festive receptions, creating stunning table settings and preparing magnificent cuisine offerings is complimented by our attentive service to you and each of your guests. At NCC, exemplary service begins with our foremost commitment to manage every detail of your wedding reception which will allow you to relax and enjoy every moment of this celebration. Your wedding coordinator is also ready to assist you with other details of your wedding, providing you access to our select list of vendors for flowers, transportation, lodging, wedding cakes, photography, entertainment and specialty linens.
We'd love to hear from you. Send us a message for pricing and availability.